Introduction
Are you looking for how to become a successful Fiverr Pro? Here is the answer. Anyone can be a successful Fiverr Pro if they have the right tools and advice. In this article, we will discuss what it takes to be a successful Fiverr professional and how you can go about getting there. We'll offer tips on pricing your services, marketing yourself, and delivering quality work that will make clients happy and keep them coming back for more.
What is a Fiverr pro and what do they offer?
A Fiverr pro is someone who has taken their freelance business to the next level by offering quality services, setting competitive prices, and being creative with their gig offerings. If you want to make a good income on this popular online marketplace, you'll need to follow their lead.
Of course, becoming a successful Fiverr pro doesn't happen overnight. It takes time, effort, and plenty of perseverance. But if you're willing to put in the work, you can definitely make a good living as a freelance professional on fiverr.com.
How can you become a Fiverr pro yourself
So, how can you become a Fiverr pro yourself?
Following are a few tips you can use to get started:
Find your niche – what services can you offer that will be in high demand?
Research the competition – find out what other freelancers are offering and how much they're charging for similar services.
Set your prices competitively – remember, you need to offer value for money if you want to attract buyers.
Be creative with your gigs – make sure your gig descriptions are clear and concise and include all the relevant information buyers will need to know.
Offer quality services – this is the most important thing you can do if you want to be successful on Fiverr. Make sure your gigs are well-written, error-free, and offer real value to buyers.
Promote your gigs – use social media, forums, and other online channels to let people know about the services you're offering.
With a little hard work and dedication, you can definitely make a success of yourself as a Fiverr pro!
How does Fiverr decide whether I'm eligible to become a Pro seller?
There are a few things that Fiverr looks at when considering whether a seller can become a Pro. This includes, but is not limited to:
The quality of your services
The level of customer satisfaction you've achieved
Your history with the site (no recent negative reviews or complaints)
If you meet all of the criteria, then you should be well on your way to becoming a Pro seller!
How do you become a Pro?
If you think you meet the criteria to become a Fiverr Pro, then the best way to apply is by filling out this form. Once you've submitted your application, it will be reviewed by the Fiverr team and you should hear back within a few days.
If you're accepted, then congratulations – you're on your way to becoming a successful Fiverr Pro!
What are the benefits of becoming a Pro?
There are quite a few benefits that come with being a Fiverr Pro. These include:
Access to exclusive features not available to regular sellers.
Higher earnings – you keep 80% of each gig you sell, instead of the usual 70%.
Increased visibility – your gigs will be featured more prominently in search results.
In my application for Fiverr Pro, what should I include?
If you're a freelancer looking to join the ranks of Fiverr's top professionals, you'll need to put together a strong application. Your application should include:
A detailed overview of your services and skills.
Examples of your work (portfolio pieces, client testimonials, etc.)
Your pricing structure.
Your availability.
Take some time to put together a well-rounded application that demonstrates your expertise and value as a freelancer. Once you've submitted your application, all you can do is wait to hear back from the Fiverr team. If your application is approved, congrats! You're on your way to becoming a successful Fiverr Pro.
How do I set competitive prices on Fiverr?
As a freelancer, one of the most important things you can do is set competitive prices for your services. If your prices are too high, you'll likely miss out on potential clients. But if your prices are too low, you could find yourself working for less than you're worth.
To find the right balance, take a look at what other freelancers in your field are charging. Use this as a baseline to determine your own rates. Remember, you can always adjust your prices up or down based on the specific project requirements.
How will buyers know I'm a Pro seller?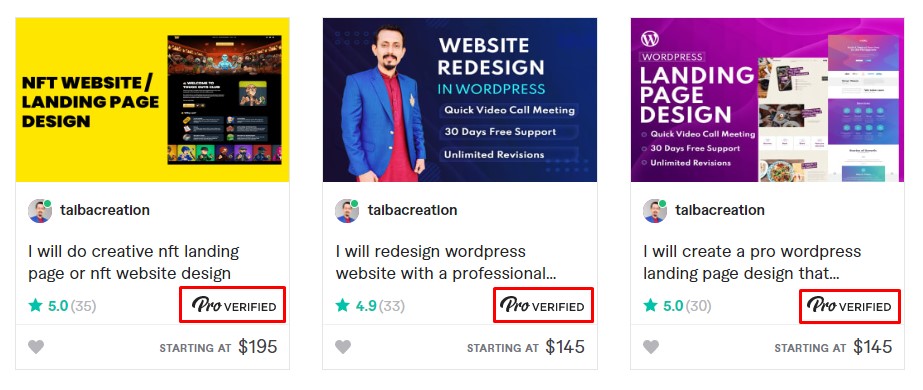 When you become a Pro, your Fiverr profile will feature a special "Pro" badge:
As a Pro, you'll also be included in a special search filter that lets buyers know they can find exceptional talent on Fiverr.
Conclusion
If you want to be a successful Fiverr Pro, you need to have a strong work ethic, be able to produce quality work and be proactive in promoting your services. You also need to be able to stand out from the competition and build a positive reputation. By following these tips, you can give yourself the best chance of becoming a successful Fiverr Pro. If you're interested in learning more about how to make money from freelancing, check out my other article on the subject. In it, I go over the different business models that freelancers can use to earn income.